/////////////////////////////////////////////
From Saturday, 14.03.2020, onwards comiX­con­nec­tion will be closed until fur­ther notice. This mea­sure is intended to min­imise the spread of the coro­n­avirus. We ask our vis­i­tors for their under­stand­ing.
Sunday, 26 January 2020 / Sunday, 23 February 2020, 3pm — 6pm
Workshop with Felix Pestemer
My Story – Comics Drawing for Beginners
Comics speak a dif­fer­ent lan­guage than texts or images on their own, and are an excel­lent medium for con­vey­ing per­sonal expe­ri­ences, imag­ined sto­ries or polit­i­cal mes­sages. In this work­shop, artist and illus­tra­tor Felix Pestemer will show you how to start mak­ing your own comics.
Ages 13 and up, par­tic­i­pa­tion lim­ited;
reg­is­ter by call­ing 0049 30 266 424242.
Saturday – Sunday, 8–9 February 2020, 11am – 6pm
Comics Journalism Workshop at the MEK
Journalists and comic artists come together to exam­ine through words and images how muse­ums across Europe reflect cur­rent cul­tural and social processes of trans­for­ma­tion.
In coop­er­a­tion with the German Comics Association http://deutscher-comicverein.de/workshop-comicjournalismus-museum/
Wednesday, 11 March 2020, 7pm
Kino Moviemento, Kottbusser Damm 22, 10967 Berlin
Film evening
The Final Adventure of Kaktus Kid, Serbia 2018, 62 min, D: Đorđe Marković.
Comic-artist Aleksandar Zograf inves­ti­gates the life of Veljko Kockar, a lit­tle known artist who cre­ated Kaktus Kid in Belgrade dur­ing WW II.
Screening and Q&A with Aleksandar Zograf and Ivan Petrović. Admission is free. In coop­er­a­tion with the German Comics Association. Please reg­is­ter at lilian.pithan[at]deutscher-comicverein.de
Saturday, 28 March 2020, 7pm // post­poned to 16th May 2020, 8pm
Comics Concert by and with Itay Dvori.
With his diverse range of com­po­si­tions and impro­vi­sa­tions, pianist Itay Dvori helps trans­form comics of all kinds into colour­ful sound paint­ings that play out the action and increase the ten­sion in the sto­ries. The music is pre­cisely syn­chro­nised to the pro­jected comic pan­els and holds view­ers mes­merised under its spell. On the clos­ing night of comiX­con­nec­tion, Itay Dvori will play a selec­tion of pieces from his reper­toire, scores from Edmond Baudouin's "Le Voyage" and Shaun Tan's "The Arrival". In addi­tion, he will present new works com­posed espe­cially for this evening's cel­e­bra­tion of comics from south-east­ern Europe. More infor­ma­tion at www.itaydvori.com
Photos from the set­ting of the comiXcon­nec­tion exhi­bi­tion in Berlin:
Photos from the set­ting of the addi­tional exhi­bi­tion area of comiXcon­nec­tion in Berlin:
New addi­tional exhi­bi­tion about comics jour­nal­ism:

Flyer includ­ing a pro­gramme overview, 2020: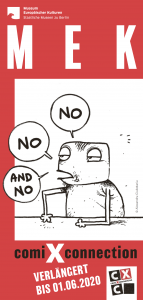 Previous flyer includ­ing a pro­gramme overview, 2019 — 2020: