/////////////////////////////////////////////
As of Monday 2 November 2020, the exhi­bi­tion is closed to the pub­lic until end of November.
This mea­sure is intended to min­i­mize the spread of the coro­n­avirus. We appre­ci­ate your under­stand­ing.
Saturday, 22 August 2020, 7pm
Hallertau – Seasonal Work in Times of Covid-19
Artist talk about mak­ing a comic diary
Lockdown in spring 2020: Every evening sci­ence jour­nal­ist Alexandra Hamann keeps diary about her sea­sonal work spon­ta­neously started on hop farms in Bavarian Hallertau. She sends texts and pho­tos to comic artist Julia Kluge, who trans­forms the episodes into colour­ful pan­els from a dis­tance (https://mintwissen.com/hopfen). The artist talk will give an insight into the mak­ing of and back­grounds of the comic diary and this par­tic­u­lar way of artis­tic coop­er­a­tion.
In good weather the artist talk will take place in the museum's gar­den.
Admission from 6pm, the comic can be read in the exhi­bi­tion.
Please reg­is­ter at mek@smb.spk-berlin.de (lim­ited atten­dance)
Facebook Link: Hallertau – Seasonal Work in Times of Covid-19
Saturday, 28 March 2020, 7pm // post­poned to 16th May 2020, 8pm // post­poned to March 2021, 7pm
Comics Concert by and with Itay Dvori.
With his diverse range of com­po­si­tions and impro­vi­sa­tions, pianist Itay Dvori helps trans­form comics of all kinds into colour­ful sound paint­ings that play out the action and increase the ten­sion in the sto­ries. The music is pre­cisely syn­chro­nised to the pro­jected comic pan­els and holds view­ers mes­merised under its spell. On the clos­ing night of comiX­con­nec­tion, Itay Dvori will play a selec­tion of pieces from his reper­toire, scores from Edmond Baudouin's "Le Voyage" and Shaun Tan's "The Arrival". In addi­tion, he will present new works com­posed espe­cially for this evening's cel­e­bra­tion of comics from south-east­ern Europe. More infor­ma­tion at www.itaydvori.com
Wednesday, 11 March 2020, 7pm
Kino Moviemento, Kottbusser Damm 22, 10967 Berlin
Film evening
The Final Adventure of Kaktus Kid, Serbia 2018, 62 min, D: Đorđe Marković.
Comic-artist Aleksandar Zograf inves­ti­gates the life of Veljko Kockar, a lit­tle known artist who cre­ated Kaktus Kid in Belgrade dur­ing WW II.
Screening and Q&A with Aleksandar Zograf and Ivan Petrović. Admission is free. In coop­er­a­tion with the German Comics Association. Please reg­is­ter at lilian.pithan[at]deutscher-comicverein.de
Saturday – Sunday, 8–9 February 2020, 11am – 6pm
Comics Journalism Workshop at the MEK
Journalists and comic artists come together to exam­ine through words and images how muse­ums across Europe reflect cur­rent cul­tural and social processes of trans­for­ma­tion.
In coop­er­a­tion with the German Comics Association http://deutscher-comicverein.de/workshop-comicjournalismus-museum/
Photos from the set­ting of the comiXcon­nec­tion exhi­bi­tion in Berlin:
Photos from the set­ting of the addi­tional exhi­bi­tion area of comiXcon­nec­tion in Berlin:
New addi­tional exhi­bi­tion about comics jour­nal­ism:

/////////////////////////////////////////////
The recently pub­lished comic diary about sea­sonal work in Hallertau/Bavaria on dis­play in comiXcon­nec­tion. In the artist talk, mod­er­ated by Axel Halling, Alexandra Hamann and Julia Kluge explained the back­grounds and mak­ing of.
/////////////////////////////////////////////
The film The Final Adventure of Kaktus Kid had been screened on 11th March 2020.
On that occa­sion Aleksandar Zograf came to Berlin, where he vis­ited the Neues Museum,
just before it had to be closed because of corona pan­demic on 14th March.
post­cards from berlin
Aleksandar Zograf 2020
/////////////////////////////////////////////
The con­cepts, scripts and first drafts for the fol­low­ing four comics have been cre­ated dur­ing the comics jour­nal­ism work­shop held on 8th and 9th February 2020 at the MEK.
Here are the final works:
Plastik Piece of Meat
Dan Allon (draw­ing) & Nathalie Frank (text)
Kitsch
Alex Bodea (draw­ing) & Inga Dreyer (text)
Bärmutter
Alexandra Rügler (draw­ing) & Jessika Knauer (text)
Superstar
Sebastian Strombach (draw­ing) & Jens Wiesner (text)
/////////////////////////////////////////////
Flyer includ­ing a pro­gramme overview, 2020: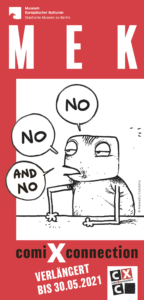 Previous flyer includ­ing a pro­gramme overview, 2019 — 2020: